Dr. Christine D'Arsigny
MD, FRCPC, FCCP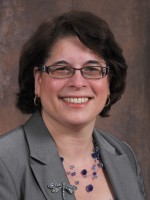 Position(s)
Associate Professor
Respirology / Critical Care
Contact Info
Phone: (613) 549-2371
102 Stuart Street, Kingston, ON K7L 3N6
Fax: (613) 549-1459
---
Clinical Interests:
Intensive care management
Post operative care after cardiac and thoracic surgery
Neurocritical care
General and interventional Respirology
Pulmonary Hypertension
Thromboembolic Disease
Clinical Appointments:
G.F.T. Kingston General Hospital
Consultant: HotelDieuHospital
Providence Continuing Care, St. Mary's on the Lake
Academic Interests:
Neuromuscular weakness in the ICU
Mechanical Ventilation and physiology of ventilation
Pulmonary Hypertension
Chronic Weaning
Dyspnea in CHF and after Pulmonary embolism
Selected Publications:

Pulmonary Hypertension: Tortuous Route to Diagnosis.  Riolo G. Al-Ghamdi B, D'Arsigny CL. Respirology Case reports, 2013;1(1)::8-9.
 
Soluble guanylate cyclase: A new therapeutic target for pulmonary arterial hypertension and chronic thromboembolic pulmonary hypertension. Dasgupta A., Bowman L, D'Arsigny C.L., Archer SL. Clin Pharm and therapeutics. 2014;
Clinical Pharmacol & Therap 2015;97(1):88-102
 
Exercise Intolerance in Pulmonary Arterial Hypertension. The role of Cardiopulmonary Exercise Testing Neder A.J., Ramos R., Ota-Arakaki J, Hirai D.M., D'Arsigny C.L., O'Donnell D.. Ann of the Am Thor Soc. 2015;12(4):604-612
 
Non-Invasive Ventilation Practice Patterns in Canadian Tertiary Care Centers: A Descriptive Analysis. Digby GC, Keenan SP, Parker CM, Sinuff T, Burns KE, Mehta S, Ronco JJ, Kutsogiannis DJ, Rose L, Ayas NT, Berthiaume LR, D'Arsigny CL, Stollery DE, and Muscedere J. 2015. Canadian Respiratory Journal. Nov-Dec;22(6):331-40.
 
Insights into ventilation-gas exchange coupling in chronic thrombo-embolic pulmonary hypertension Neder J, Ramos R, Ota J, Ferreira E, Hirai D, Sperandio P, Alencar MC, Arbex F, Berton D, D'Arsigny C, O'Donnell D.. Eur Resp J. 2016;48:252-254. 
 
Treatment for Patients With Chronic Thromboembolic Pulmonary Hypertension: Where Does Balloon Pulmonary Angioplasty Sit in the Treatment Algorithm? D'Arsigny CL Can J Cardiol. 2017 Apr;33(4):430-432.